There were nights Philip Barton would wake at 2 a.m. and not go back to sleep. The 49-year-old Toronto contractor had taken on the challenge of a lifetime – renovating a semidetached live-work space, adding an underground garage and rear addition, for a total of 6,500 sq. ft. (which made it 200% lot coverage). It was also on one of Toronto's busiest downtown streets and the client was a well-known architect.
Barton, who's been in construction since 1988, is a licensed carpenter and opened his renovation company Kinswater Construction and Project Management in 2009. He does everything from bungalow top-ups to complicated structural additions in the $300,000–$3 million range. Although he'd worked on several previous projects with architect DeeDee Taylor Eustace of Taylor Hannah Architect Inc., when she asked him to project manage the site with her, he didn't realize the extent of the job – or the potential challenges – until he saw the drawings.
But by then he was intrigued by the challenge. "It was an as-built situation with every challenge being met at the time of occurrence … no way to anticipate and prepare ahead, so you had to be on site a lot."
Eustace says Barton was "absolutely the right person to project manage this with me. He's conscientious, … does all the things you're supposed to do. I can't have someone working who doesn't respect those things, especially on such a densified site."
While Barton worked the labour and trades component, Eustace engineered and worked with the City on the zoning bylaws. "Part of my specialty as an architect, interior designer, and developer is to look at zoning and figure the most favourable and best use of the design."
The Neighbours – a Constant Presence and Construction Challenge
Anytime there's a party wall, the renovation is bound to have challenges. To compound matters at this site, the third-level wall was just one brick thick, so construction required an accordion method or zigzag approach of demolishing and rebuilding in sections, bracing between the old and new, replacing ceiling joists, then reframing piece by piece.
A new underground garage and rear addition called for major excavation and serious underpinning which also affected the demolition.
Because the third floor party wall was not strong laterally, Barton didn't want to take away more than 20 ft. at a time. So the demo and framing crews had to take everything down and rebuild in sequences. On this job there were five such sequences.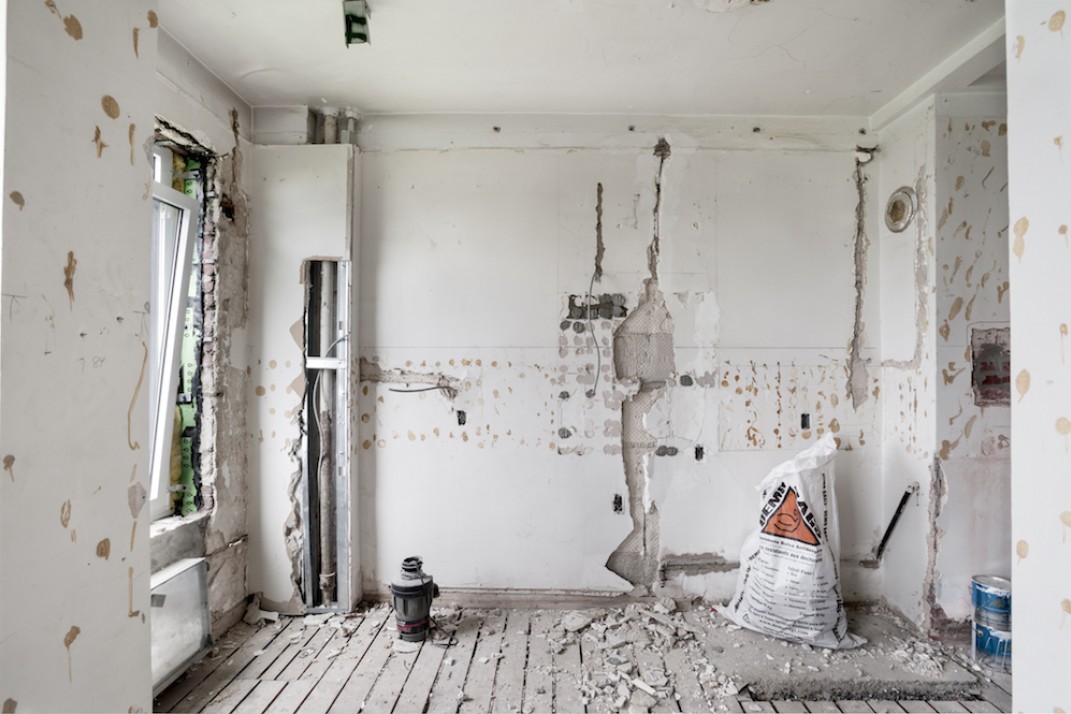 Had the existing basement ceiling height stayed the same, the process would have been easier, but Eustace wanted higher ceilings, and a walk-out for better light and outdoor access. To accomplish that required very deepstepped underpinning of 15 ft. at the basement party wall. Shoring (steel piles and lagging) were required for the garage and addition at the rear of the building (there was an 18 ft. drop in elevation from the street to the laneway). Dump trucks and rubble bins could not manoeuvre the hairpin turn from the laneway to the backyard, so all the excavated materials were carried to waiting trucks via bobcat through the laneway.
"To achieve the front walkout, we would have needed to submit our proposal to 12 City departments and get approval to place shoring equipment on the City sidewalk, but that would have taken months and set the project back. So [Barton] elected to dig by hand and timber shore about 14 ft. below the sidewalk, all while staying on our property."
"It was always a question of time versus money," Barton says. "This monumental hand dig would cost the same as shoring, but not waiting for the report allowed us to get further ahead and save time."
With such tight quarters many materials had to be carried in. In some cases, things normally built off-site had to be constructed inside– the open riser stairs between each floor, for example. "There was no way we could have turned the corner on the side entrance to bring those in already assembled," Barton says. For the same reason, excavated materials had to be carried out through the rear laneway to waiting trucks on Pears Ave. Because the water truck couldn't make the tight turn, cleaning up afterward took hours with power washers. And when road construction on Bay Street stopped all road permits in the area, they had to pour the garage footings using motorized wheelbarrows buggied from Pears Ave. through the laneway.
Underpinning
To prepare for underpinning, the distance between cuts is measured and then numbered on the wall – one, two, three and so on. (The distance depends on soil conditions, Barton adds.) After digging under all the footings marked number one, you pour the concrete, then pack nonshrink grout between the new concrete and existing footing to let it cure. Then do all the number three cuts, and skip back to do the number two cuts.
In the party wall agreement that had been negotiated, the neighbour had a say on how close those cuts would be. Barton's structural engineer felt every 3 ft. was appropriate, but the neighbour's consultant wanted 18 in. cuts.
Barton says usually an engineer will observe a couple of pours, as will the building inspector, but the third party agreement insisted on inspectors and engineers being present for every underpinning cut. They also wanted cuts done and cement poured the same day. Eustace paid for both her engineer and the neighbour's, which added about $25,000 to the final cost.
EXTERIOR
With the residential-commercial zoning of the site, exterior walls had to be noncombustible. This meant using 18-gauge metal studs screwed together, then covered with DensGlass Gold, which were then clad with HardiePanel and limestone. To ensure proper fire separations between office and residence, double drywall was installed with a resilient channel, all joist cavities were filled with R24 ROXUL SAFE'n'SOUND®, and metal fire doors hung between the two spaces.
The building design required Barton to build moment frames, which means installing steel columns from basement to roof, and across the top and bottom of every window to provide lateral stability. This process is commonly used on high-rise buildings to resist lateral loads from wind or earthquakes.
Flat Roof
Although flat roofs today perform as well as peaked, Barton called in a roof specialist to consult on the job because of the potential for moisture problems due to runoff and dew points, and advise on whether or not to vent, and whether and how much to insulate above or below the roofline.
INTERIOR (Energy- Efficient Aspects)
The three mechanical systems each have forced air high efficiency gas furnaces, with two-stage electronically commutated motors (ECM) that are more energy efficient. Windows are all Low E argon, or Low E2 double glazed. A boiler drives the radiant heat in the walkout walls and floor (for added frost protection), and in the garage. ROXUL is the main insulation which also provides sound attenuation.
OTHER
Working in a major city centre presents a number of challenges including tight spaces, strict bylaws and dealing with high traffic streets.
Parking was a major issue, Barton says. Scaffolding over the shared drive between the site and the next door neighbours meant providing alternative parking for them. That added another $14,000 in parking meters and tickets to the bill. Barton's crew incurred another $10,000 in parking expenses and each vendor racked up about $1,000. Barton figures the total parking cost was about $40,000.
Paid duty police officers were hired for traffic control in the lane-way, not because it was required, but to reduce neighbour questions or
complaints, Barton says.
And they hired someone to help people over the ramp under the hoarding that covered the sidewalk on Davenport Ave.
In spite of "doing everything by the book" – even printing off letters to inform nearby residents of the schedule – Barton says neighbours were hard to please. He thinks it's partly because the affluent area may generate NIMBYism (Not in My Backyard), but also because the site got a 200% lot coverage (100% residential and 100% commercial) with no committee of adjustment.
The building inspector's voice mail was filled with neighbour complaints, and Barton says they had two site visits from the Ministry of Labour to "investigate unsubstantiated reports of unsafe work. There was someone from the councillor's office, from the ratepayers' association, lots of people with clipboards, doing what, I don't know."
The weather didn't cooperate either. Just as the crew was about to take down the structure's last 20 ft. along Davenport Ave., the ice storm of 2013 hit, followed by months of deep freeze temperatures. It wreaked havoc with construction schedules, Barton says. "At -18°F you're getting only 30% productivity out of your crew."
Barton is amazed at Eustace's fortitude in dealing with so many complications. Eustace is more sanguine about it all. "I've built a lot of complex things – my cottage is on 70 ft. of steel cantilevered over the water. To me it was just a process, shoring the site, underpinning, and all the various ways of going about building it. There are issues with any structure – of the thousands of details that go into one build, there will always be things that go well, and others that take more time. The secret is working through it with your trades."
Although he's not sure he would want to tackle another project of this complexity again, Barton feels a certain sense of accomplishment. "I can't believe what was done there. We made the impossible possible. Even the building inspector was blown away when he did the final inspection, especially considering the location."
In retrospect, Barton says, "It would have made great TV – the stakes were always high, the obstacles constant, and ever-present neighbours."
Eustace loves her new home and office. "It's stunningly beautiful. At the end of the day, I'm the first single-family home on Davenport Ave. just shy of 7,000 sq. ft. with 1,500 sq. ft. of roof garden and another 200 sq. ft. of mahogany terrace off the kitchen. I'm very lucky."